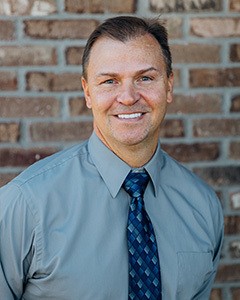 James C. Thomason, DMD
Dr. James Thomason graduated from
Oregon Health & Science University
in 1999. Prior to studying at dental school, he attended
Ricks College
,
Utah State University
and
Idaho State University
. Dr. Thomason has been practicing for over 15 years in Idaho, 13 of which have been here in Rexburg. He completed his new state-of-the-art dental clinic on the south side of Rexburg 7 years ago. Since he began practicing dentistry, Dr. Thomason has kept up-to-date on many continuing educational classes, ensuring that his patients receive the most comprehensive and advanced dental care possible. He also maintains active memberships with the
American Dental Association
,
Idaho State Dental Association
and the
Academy of General Dentistry
. As a native of Rexburg, Dr. Thomason loves being back in eastern Idaho. When not practicing dentistry, he loves the outdoors and frequently goes camping, fishing, motor biking and hiking. He enjoys being with his wife, Nichole, and his three children, Taylor, Tanner and Tori.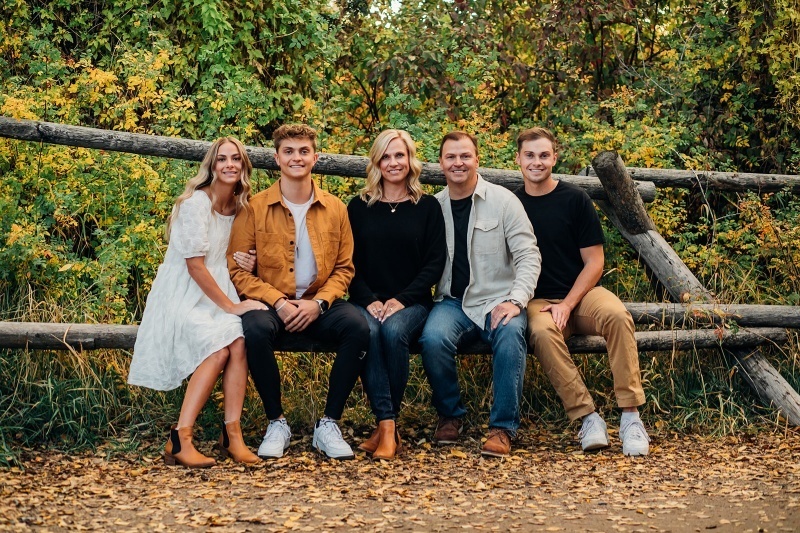 Meet Our Team
Our friendly and comforting dental team works alongside our dentist, Dr. James Thomason, to give you exceptional dental care in Rexburg, Idaho! We do our best each day to make sure each one of our patients feels loved, comfortable and relaxed while they receive their dental care. If you wish to learn more about the dental team that will give you the smile you have always wanted, please feel free to read our biographies and give North Fork Dental Care a call at 208-356-3012! We look forward to talking and working with you.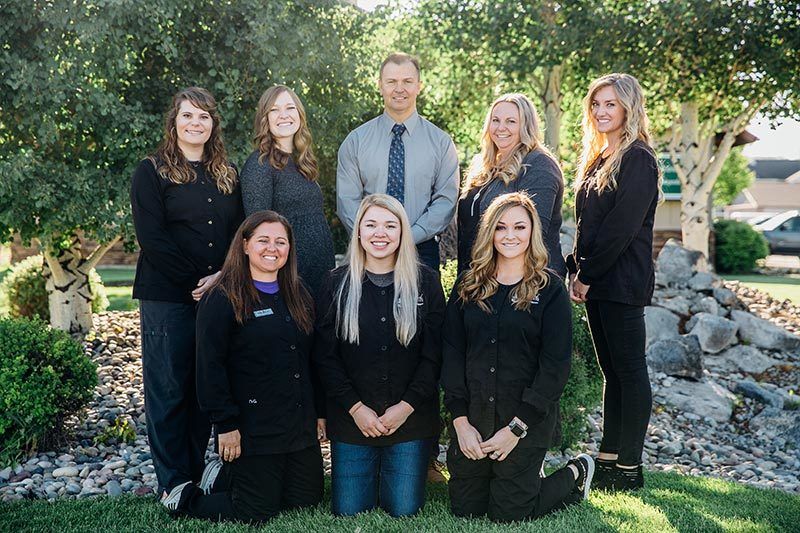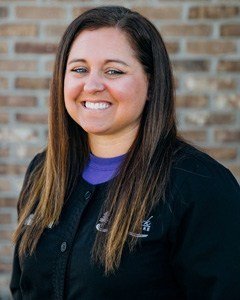 Amber – Registered Dental Hygienist
Amber is one of our qualified dental hygienists. She attended school at both Ricks College and Idaho State University where she received her bachelor's degree. She graduated in 2002 and has been practicing at North Fork Dental Care ever since. She is originally from Salt Lake City, Utah. When she is not at work, she enjoys playing with her four young kids and spending time with her husband.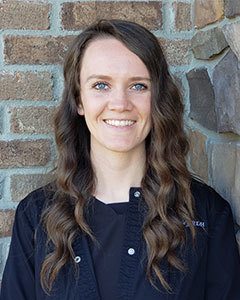 Brittney B. – Registered Dental Hygienist
Brittney received her dental hygiene degree from Carrington college in Boise, Idaho, in 2019. Prior to being a hygienist, she was an assistant for five years. She is from Idaho falls, but she and her family now live here in Rexburg. She loves hiking, running and anything that has to do with the outdoors! She loves getting to know each patient and the lasting relationships that come with it!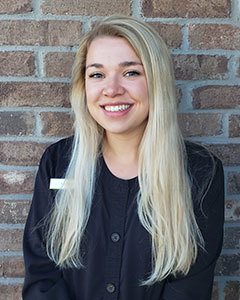 Morgan – Registered Dental Hygienist
Morgan joined the North Fork Family in 2016. She graduated from dental hygiene school in Lakewood, Washington, in May 2015. She is from Washington, so she loves the Seahawks! Morgan's passion for oral health comes through in the relationships she creates with each patient.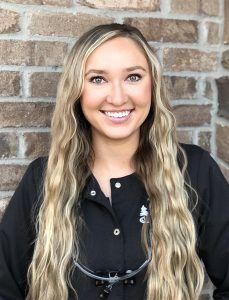 Tayler – Registered Dental Hygienist
Tayler received her dental hygiene degree from Carrington College in Boise, Idaho. She was a dental assistant for five years before becoming a hygienist, which is where she fell in love with the dental field. Tayler was born and raised in Teton, Idaho. She enjoys spending time with friends and family and doing anything outdoors. She is very passionate about making people feel comfortable and building everlasting relationships with patients.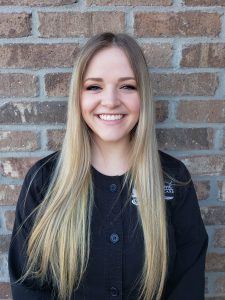 Laura – Dental Assistant
Laura was born and raised in Meridian, Idaho and loves the variety that Idaho has to offer. She served a mission in Carlsbad, California, where she met her new husband. They recently moved to Rexburg to begin their lives together and attend school. Laura loves to sing, play the piano, and paint. She has worked in the dental field for a little over a year and is enthusiastic to continue progressing in doing what she loves!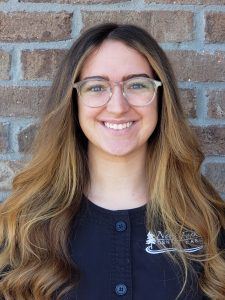 Hannah – Dental Assistant
Hannah is from Commerce City, Colorado. While visiting home after her first few semesters at BYU-Idaho, she developed a love for dentistry! Along with speaking spanish, she enjoys learning new things, spending time with family and friends, sports, photography, and music. Her favorite part about working here is meeting all of the wonderful patients, and helping everyone feel comfortable and happy!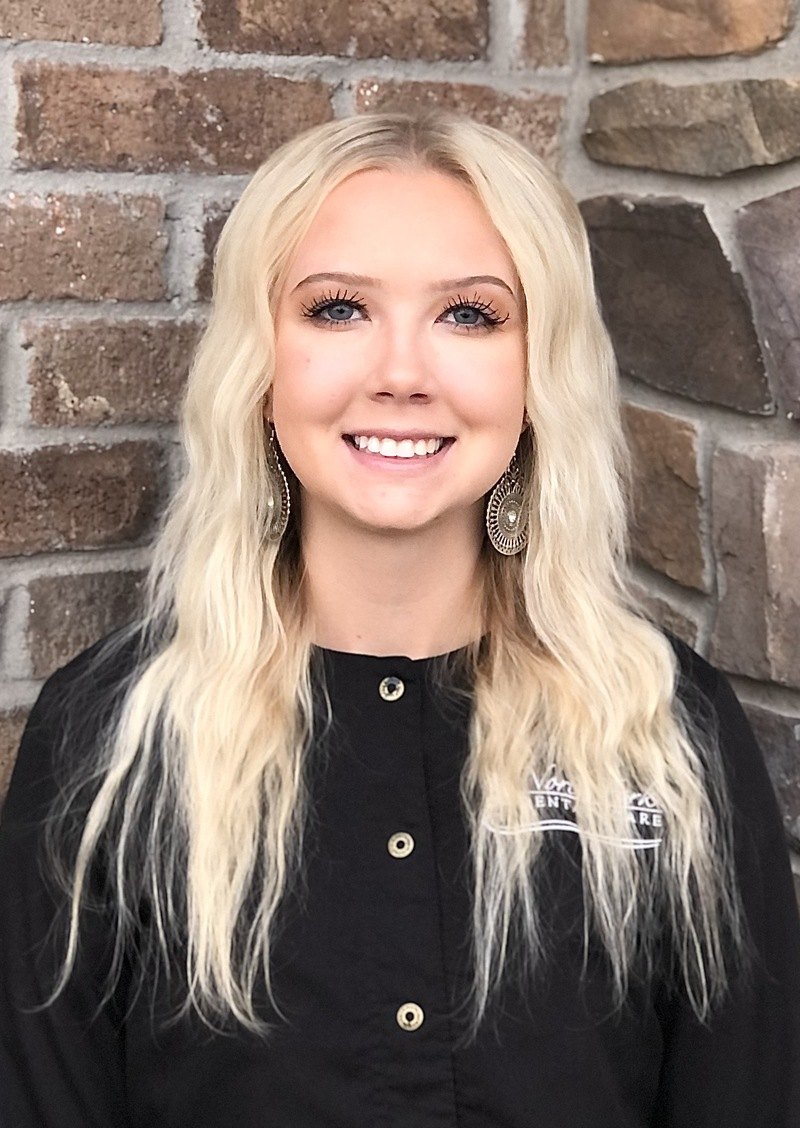 Karlie – Dental Assistant
Karlie was born and raised here in Rexburg! She enjoys being outdoors, riding four wheelers and spending time with her family. Karlie has been a dental assistant for almost two years and plans on many more!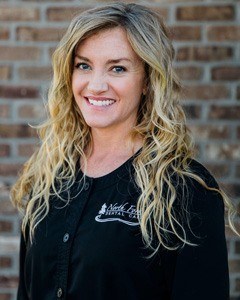 Sarah – Receptionist
Sarah grew up in Utah and later moved to Rexburg with her family in 2015. She loves outdoor activities, especially fly-fishing on the snake river. She also enjoys spending all her time with her husband and four kids.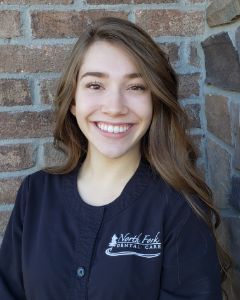 Leeah – Receptionist
Leeah was born and raised in Granite Bay, California. Leeah loves the outdoors, riding horses, bike riding and playing with her dogs. She spends most of her free time sewing, drawing and going on adventures with her husband. Leeah has known she has wanted to work in the dental field ever since she was a little girl. She plans on continuing her schooling to one day become a dental hygienist. Leeah's favorite part about working here is meeting and getting to know our patients.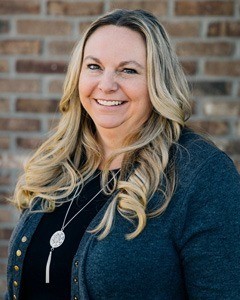 Heather A. – Office Manager
Heather joined our team in October 2018. She has worked as an office manager in the dental field since 2010. Heather grew up in Idaho Falls and Rexburg. She is married to her high school sweetheart and has two beautiful daughters and recently added an amazing son-in-law. She enjoys spending time with her family and traveling. Heather loves working with patients and getting to know new faces!